Carry the One: A Novel (Hardcover)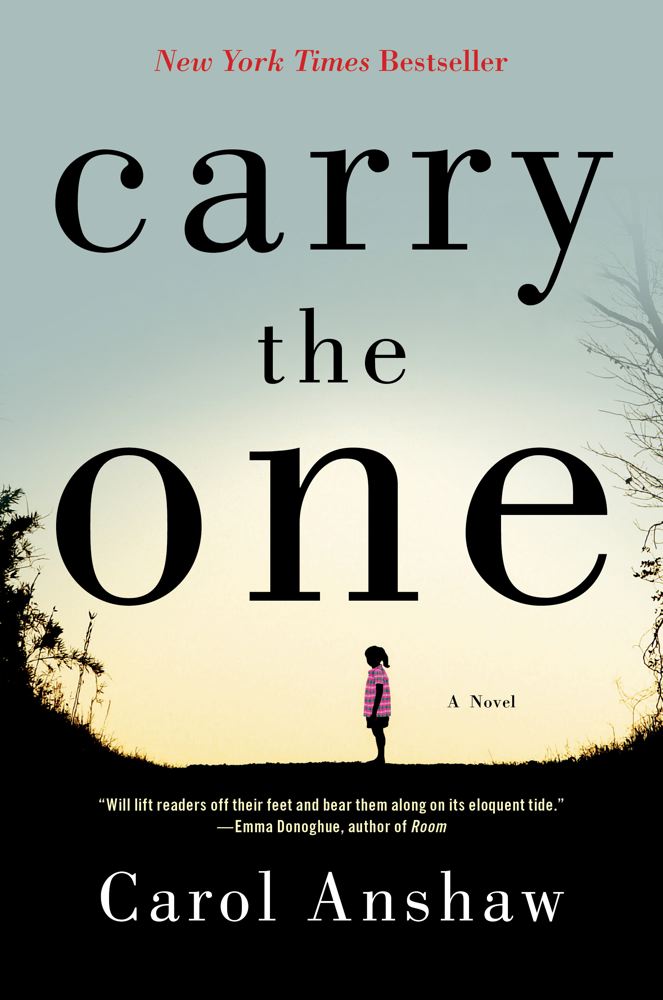 March 2012 Indie Next List
---
"Carmen and Matt's wedding was festive, full of dancing, drinking, and celebrating the joining of two lives. but for Carmen and Matt their wedding night would not be remembered solely with joy, but rather as the night a car full of their relatives and close friends headed out into the dark and accidentally killed a young girl on a lonely stretch of road. The occupants of that car and the wedding couple would be shackled by the guilt of that night for years to come. Carry the One examines the subtle shades of change this tragic accident causes in their lives. It is a compelling story of friendship, loss, betrayal, and life at its most real."
— Deon Stonehouse, Sunriver Books, Sunriver, OR
Fall '12 Reading Group List
---
"Carmen and Matt's wedding was festive, full of dancing, drinking, and celebrating the joining of two lives. But for Carmen and Matt their wedding night would not be remembered solely with joy, but rather as the night a car full of their relatives and close friends headed out into the dark and accidentally killed a young girl on a lonely stretch of road. The occupants of that car and the wedding couple would be shackled by the guilt of that night for years to come. Carry the One examines the subtle shades of change this tragic accident causes in their lives. It is a compelling story of friendship, loss, betrayal, and life at its most real."
— deon Stonehouse, Sunriver Books, Sunriver, OR
Description
---
This stunning, break-out achievement has already been hailed by Emma Donoghue, bestselling author of Room, for presenting "passion and addiction, guilt and damage, all the beautiful mess of family life. Carry the One will lift readers off their feet and bear them along on its eloquent tide."

Carry the One begins in the hours following Carmen's wedding reception, when a car filled with stoned, drunk, and sleepy guests accidentally hits and kills a girl on a dark country road. For the next twenty-five years, those involved, including Carmen and her brother and sister, craft their lives in response to this single tragic moment. As one character says, "When you add us up, you always have to carry the one." Through friendships and love affairs; marriage and divorce; parenthood, holidays, and the modest calamities and triumphs of ordinary days, Carry the One shows how one life affects another and how those who thrive and those who self-destruct are closer to each other than we'd expect. As they seek redemption through addiction, social justice, and art, Anshaw's characters reflect our deepest pain and longings, our joys, and our transcendent moments of understanding. This wise, wry, and erotically charged novel derives its power and appeal from the author's exquisite use of language; her sympathy for her recognizable, very flawed characters; and her persuasive belief in the transforming forces of time and love.
About the Author
---
Carol Anshaw is the author of Carry the One, Aquamarine, Seven Moves, and Lucky in the Corner. She has received the Ferro-Grumley Award, the Carl Sandburg Award, and a National Book Critics Circle Citation for Excellence in Reviewing. She lives in Chicago and Amsterdam.
Praise For…
---
"Beautifully observed . . . [Anshaw] intimately dissects how one event or choice can alter the trajectory of a life, how a fork in the road can lead to wholly unexpected and divergent outcomes . . . a resonate 'Big Chill'-like look at how time affects relationships. . . . Though the novel grapples with the many sadnesses of life . . . it does so with lyricism and humor. . . . We are pulled along by [Anshaw's] uncommon ability to describe just about anything. . . . As the years unfurl in this affecting novel, memories of the accident that took Casey Redman's life receed, but the fallout from that night has been internalized by everyone involved, invisibly shaping their outlook on the world, their feelings about love and responsibility and regret."—Michiko Kakutani, The New York Times

"Graceful and compassionate . . . Writing with rueful wit and a subtle understanding of the currents and passions that rule us, Anshaw demonstrates that struggling to do one's best, whatever the circumstances, makes for a life of consequence."—People magazine, 4 stars

"If you love Jonathan Franzen, you'll love this compelling book."—Entertainment Weekly (Bullseye)

"Carol Anshaw is one of those authors who should be a household name (in literature-loving homes, anyway). There's a good chance that her latest novel, Carry the One, will make that happen . . . fine, eloquent."—USA Today

"Moving and engaging . . . funny, smart and closely observed . . . explores the way tragedy can follow hard on celebration, binding people together even more lastingly than passion. . . . Anshaw gives readers the reward of paying close attention to ordinary people as [she] illuminates flawed, likeable characters with sympathy and truth."—Sylvia Brownrigg, The New York Times Book Review

"Sentence by intelligent sentence, the novelist makes . . . us feel the remorse and joy and fears much more sharply than we can sometimes know those same emotions in the lives of our closest siblings or friends or even in ourselves. . . . Carol Anshaw gets under the skin of her characters and under the reader's, as well."—Alan Cheuse, NPR's "All Things Considered"

"Although Anshaw has long been a literary milestone-maker, her pioneering is the least of her accomplishments. Anshaw is that rare, brilliant, witty writer whose prose is rich and buttery and whose plotting is as well-conceived and seamlessly executed as that of the most intricate thriller. Her psychological insights lend exceptional depth to her characters, who are so painfully and hilariously recognizable that we cannot turn from the familiarity of their circumstances and their flaws."—Chicago Tribune

"A brilliant feat of storytelling . . . one of the most intensely vibrant novels I've ever read. . . . This book is that kind of pearl."—Susan Straight, The Boston Globe

"Compulsively readable . . . subtle and seductive . . . a novel with the sweep of a family saga and the compressed gleam of a short story."—Cleveland Plain Dealer

"Provocative . . . her style is dead-on. What makes this a good book is the way the characters change and interact over time."—Dallas Morning News

"Superb."—Financial Times

"The eloquence of Anshaw's prose approaches poetry, and her haunting novel lingers in the memory."—Buffalo News

"[Anshaw] writes extravagantly well. She has a remarkable ear for dialogue, for the cutting remark, for the beautifully phrased and telling detail. She paints an acid-dipped and spot-on portrait of the American obsession with self. . . . Skillfully rendered."—Washington Post

"Even though the book explores the lives of the characters for more than two decades, the narrative is well paced—it is never too brisk nor does it get bogged down in wordy explanations. Anshaw deftly handles the passage of time, the interior lives of her compelling characters, and the specter of Casey's death as they all move away from it and on with their lives. There is humor, sadness, heartbreak, intelligence and compassion here. It's an outstanding and beautiful story of guilt, family, love, and both the healing and damage the years can bring."—Bookreporter.com

"Anshaw has a deft touch with the events of ordinary life, giving them heft and meaning. . . . Funny, touching, knowing . . . a quiet, lovely, genuine accomplishment."—Publishers Weekly (boxed starred review)

"Masterful in her authenticity, quicksilver dialogue, wise humor, and receptivity to mystery, Anshaw has
created a deft and transfixing novel of fallibility and quiet glory."—Donna Seaman, Booklist (starred review)

"Anshaw deftly depicts family ties broken and reconnected, portraying the best and the worst of this group of eccentrics. Recommended for readers of well-crafted literary fiction."—Library Journal

"Sharply observed and warmly understanding—another fine piece of work from this talented author."—Kirkus Reviews

"Here's passion and addiction, guilt and damage, all the beautiful mess of family life. Carry the One will lift readers off their feet and bear them along on its eloquent tide."—Emma Donoghue, author of Room

"Reading this book, I felt like I was watching someone cross a tightrope with the same relaxed, assured stride they would use on solid ground. Anshaw is in such graceful command that her story about three gifted, wounded siblings almost doesn't feel like fiction. The traumatic accident that derails the characters' lives as young adults is a sort of echo of the childhood damage they've already lived through. The ways that they do and don't survive this are variously tragic, stark, and beautiful, but always utterly convincing. Along the way, the generous Anshaw doles out psychological acuity, antic humor, cultural critique and profound wisdom as the merest casual asides. It can't be as effortless as she makes it look, but it's a pleasure to soar with her, for a while, on that high wire."—Alison Bechdel, author of Fun Home

"This deceptively casual novel is both intimate and mysterious, frank and elusive, full of the stuff of life—love, lust, drugs, dogs, marriage, children, divorce, art, prisons, and politics—while haunted every shimmering page of the way by the death of a young girl, whose ghostly presence poses one of this novel's compelling questions: how can we disentangle old knots when new ones are being tied with every passing day?"—Scott Spencer, author of Man in the Woods and Endless Love

"Featuring Carol Anshaw's trademark warmth, wit and erotic subtlety, Carry the One is loopy and funny, sad and complex. Painterly, lifelike, it provides grownup pleasure."—James McManus, author of Positively Fifth Street

"It's my birthday and the phone rings and I don't want to answer because I am reading Carol Anshaw's Carry the One, and how can reality compare?"—Nicole Hollander, creator of "Sylvia"

"A laser-focused, compulsively readable tale of chance and fate with a big brain, sharp tongue, and huge heart. . . . This book is undeniably hip, but it's not the hip of Urban Outfitters knit caps or fixed gear bicycles. Carry the One has its finger on the pulse of the . . . human condition. That's what makes it hip with superpowers. That's what makes it the platonic ideal of cool."—Kit Steinkellner, bookriot.com

"Anshaw has a way of writing that nails the psychology of humans. She explores the complicated relationships between men and women, sister and brother, mother and daughter, by breaking wide open inhibitions, those sticky boundaries that hold us back and that pesky fear business that keeps us hiding in our closets. . . . It is intense, sweet, honest, and hopeful, all at the same time."—redheadedbookchild.com
Coverage from NPR